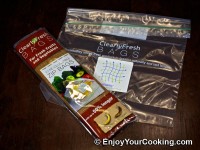 "How to keep products fresh longer after purchase?" is a question right answer to which can save you significant amount of money: if you don't need to throw spoiled food – then you don't need to restock.
Looking for more income, grocery stores are trying to make you buy bigger amounts giving smaller prices per item.
And these are savings which are easy to see on the spot: buy "2 steaks, get 1 free", buy big bunch of dill for the same price as a small package in the pre-packed herbs section (or even cheaper), get whole string bag of apples instead of buying one by one.
However, what do you do when you buy these, but don't have immediate use for all of it?
If for meats freezing can be the answer, even though it puts on you a burden to remember to start unfreezing meat in advance before cooking. However for fresh produce freezing is rarely the way to go: frozen fruits, vegetables, berries and herbs (even thou they are widely sold frozen) lose texture, nutrition and taste when frozen / thawed.
So what can I do to keep vegetables, fruits, herbs and berries fresh longer?
I was thinking on trying some kind of packaging bags for a while now, so when "Clearly Fresh Bags" people approached me with an free sample and a possibility to review their product, I gladly jumped on that opportunity.
From their website I learned that "Clearly Fresh Bags are a re-closeable bag with a breathable membrane which helps keeping fruits and veggies fresh longer than traditional storage methods". And when I received my sample in mail, I decided to put these bags to test, together with Ziploc bags I got from the grocery store.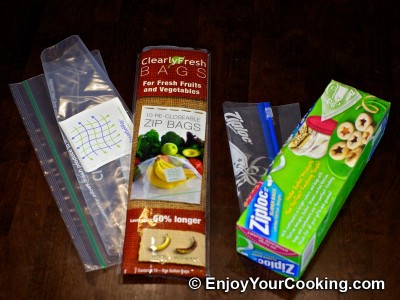 I chose 3 fresh produce samples: bananas, strawberries and fresh parsley: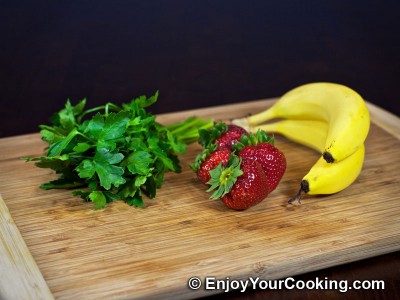 Testing conditions
Each of the samples were packaged into separate bag ("Clearly Fresh Bags" and "Ziploc"), extra air was removed accordingly to the instructions. All samples of the same product were stored for 11 days of the test in the same conditions: strawberries and fresh parsley in the fresh product section of the fridge, bananas on the counter. See results for yourself below.
Strawberries
Stored in fresh produce section of the fridge.
In general I didn't see much of the difference between strawberries stored "Clearly Fresh Bags" and "Ziploc", both of samples looked pretty good after 11 days; a sample from the original package didn't survive past 5th days, so I don't have picture of this one.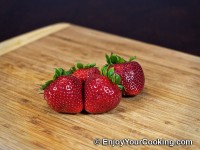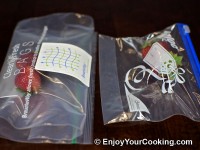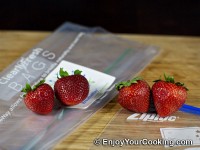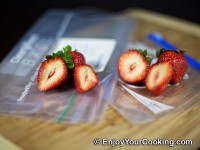 Fresh Parsley
Stored in fresh produce section of the fridge.
Sample from "Ziploc" bag looked a tiny notch better: leaves and brunches kept original shape and juiciness, when "Clearly Fresh Bags" sample looked still good enough for cooking, however a bit faded. However again, comparing to the original packaged sample which didn't survive a week, I consider both bags done good job.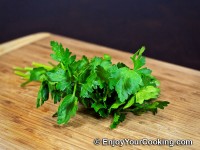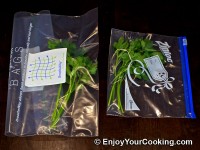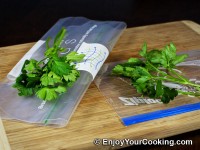 Bananas
Stored on the counter at room temperature.
For this one sample from "Clearly Fresh Bags" looked a notch better: "Ziploc" sample ripened a bit faster, however again, both bags did pretty decent job, you can compare them both to the banana from the same batch which was stored without any bags for the same amount of time.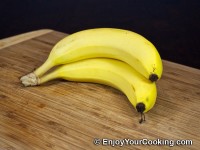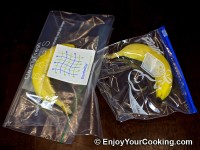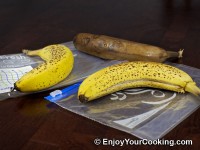 In general I am very pleased with both bags: I was never able to enjoy fresh strawberries for so long w/o throwing away more than half of them on the way, and even then it was never longer than 5 days. By using bags I was able to double that time! The same goes for bananas and parsley.
I will continue using bags to store fresh produce, and I am pretty sure it will decrease amount of food and money I throw away because it isn't fresh anymore.