Tag: cookie (Page 1 of 1)
May 10th, 2014 in Desserts by Julia Volhina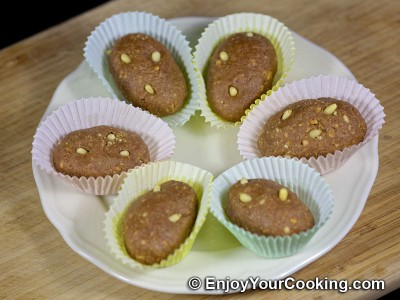 This is a no bake dessert from my childhood: one of the easiest to do (you can do it with you child together) with ingredients which were easily available at that time. I think I grew up with condensed milk, cookies and butter.
We called these "sweet potatoes", I guess mostly because of the color and form. I think the closest equivalent to this recipe in English would be "rum balls" if you make them with rum and form balls instead of "potato" shapes.
Of course, if you make this dessert for kids, skip alcohol.
March 1st, 2014 in Desserts by Julia Volhina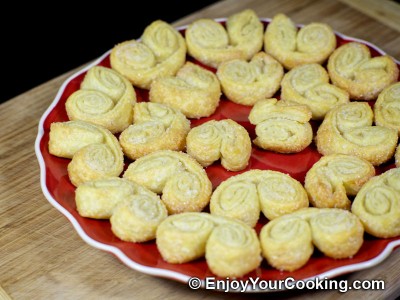 This is pretty easy recipe for sugar sprinkled puff pastry cookies which can be made from either ready-to-use puff pastry dough, or homemade one. Either way the recipe isn't too complicated to follow.
I used whole sheet of puff pastry dough prepared for last week recipe (that was made from 2 cups of flour, 8 oz of margarine and 2/3 cups of water). That yielded me 2 full cookie sheets (2 batches) of 36 cookies each.
You can adjust size of the cookies by playing with the dough: thinner dough rolled into smaller rolls will produce smaller cookies, thicker dough or/and bigger rolls will produce bigger ones.
If you like cookies to be more sweet, roll dough slices in sugar before putting them to the cookie sheet (but for me it is a bit too sweet, so I usually skip this part).
October 2nd, 2010 in Desserts by Julia Volhina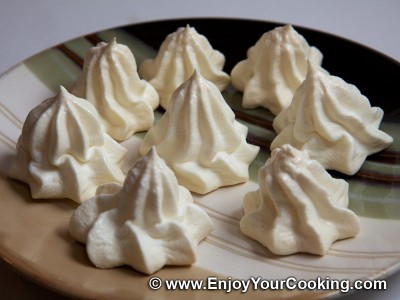 Beze cookies or meringues (probably more familiar name for you) are one of those desserts you can put together literally from almost nothing.
2 egg whites and a bit of sugar – that is all you need prepare a nice finishing for the romantic dinner or something to sweeten your life with when you need it.
Using of pastry bag, when you operate with sugary and bubbly "batter", can be hard at the beginning, but it goes easier once you get used to it.
If you have choice – pick bigger bag so you have more room for maneuver when loading it with "batter".