Tag: marinate (Page 1 of 1)
April 19th, 2014 in Beef, Main Dishes by Julia Volhina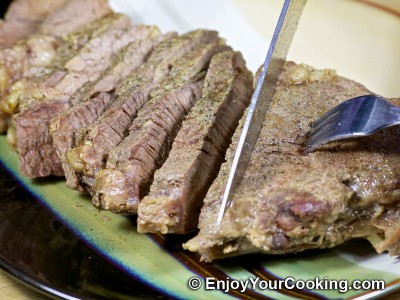 I am trying to avoid fried foods for some time, and while actually doing so, I am amazed with how many recipes I use involve frying.
So I was staying in front of meat counter figuring out what to cook. And then lady behind the counter suggested to roast some beef.
And this is a recipe I decided to go with: roast beef marinated with onions, black pepper, coriander, allspice and bay leaves.
In addition to ingredients this recipe also required an oven bag or dutch oven with a lid.
September 1st, 2012 in Beef, Main Dishes by Julia Volhina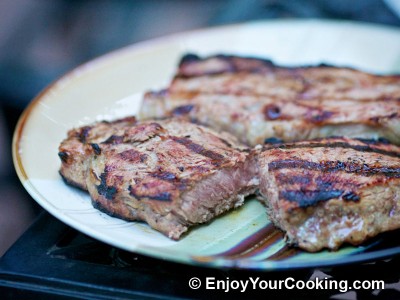 A simple recipe to marinate steaks for a cookout: onion juice tenderizes meat without draining its own juices and no need to clean onions themselves as if you would need to do when marinating meat with chopped onions.
I used only salt and ground black pepper as seasonings this time, but other spices can be used to your taste: bay leaf, allspice, paprika, whole peppercorns, whatever you like.
Any meat cut will work here, more lean meats may require more time for marinating.
November 12th, 2011 in Appetizers & Snacks by Julia Volhina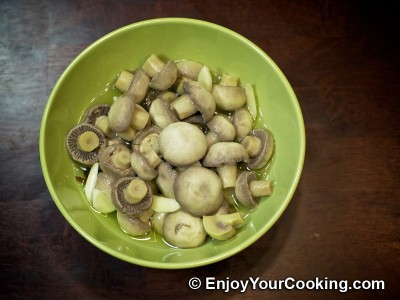 Taste of homemade pickled mushrooms can't be beaten by any brand from the store. If you pickle mushrooms yourself you can control spiciness and acidity to make sure they taste exactly as you want them to.
Champignon mushrooms are most commonly available that is why I used them, but this marinate will work for edible wild mushrooms: boletuses, honey mushrooms and other edible mushrooms as well. However for wild mushrooms you will need to increase boiling time and maybe change water trough boiling at least once.
Mushrooms pickled this way can be stored in the fridge for long time, if you want to preserve them outside of the fridge – use sealing jars and follow the instructions for proper sealing; however I don't see a reason to do so: champignons are commonly available in every store and you can pickle them as much as you want without actually sealing into jars.