Tag: semolina flour (Page 1 of 1)
August 18th, 2012 in Hot Soups, Soups by Julia Volhina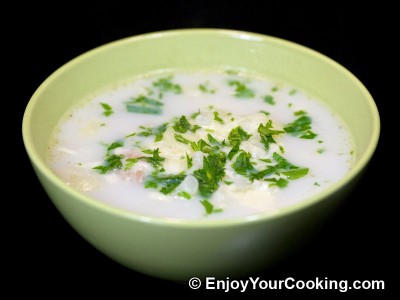 Unusual soup (at least for me): cauliflower florets and with tender chicken boiled in chicken broth and milk thickened with semolina flour.
It requires much less work to prepare that usual soup do: boil chicken and cauliflower and wait until they all become soft to taste. Not much peeling, blanching, slicing, dicing, etc.
You can adjust thickness of the soup by varying amount of water, milk and semolina flour. Add mozzarella directly to a serving bowl if you like taste of melted cheese, or skip it all together if you want to make soup skinnier.
December 17th, 2011 in Main Dishes, No-meat by Julia Volhina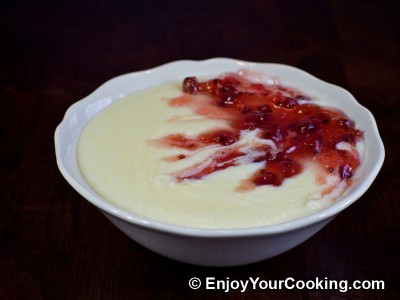 Mannaya Kasha is one of foods associated for russian people with their childhood. When I was little I was always told it is rich on nutrients and required for healthy kid growth – every kid knew that to grow strong and healthy they need to finish up their plate with semolina porridge.
Just as a note: while researching for proper translation for this recipe, I stumbled on information that semolina porridge isn't recommended for kids younger than 3 years (which was new to me) as it contains high amount of gluten and also phytin. But because it also has a lot of proteins and high content of vitamins E and B1 it is very good for kids after 3 year old who have no gluten intolerance.
While cooking it is important to stir mannaya kasha all the time (I use whisk for this and it helps a lot), or you will get clots and no kid likes them in their mannaya kasha.
August 13th, 2011 in Desserts by Julia Volhina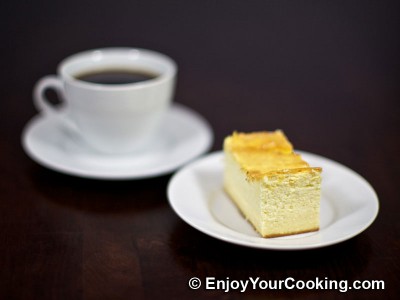 This cake is similar to the cheese cakes so popular in west part of the globe. However this one is made from quark cheese (fresh farmers cheese), not from the cream cheese.
It is very popular dessert treat in West Ukraine. It is often being made with raisins, however I don't like raisins, so I am doing it without any filling. Just add them if you like.
During the baking this cake will rise in the oven, and then it will fall down a bit while colling down. That i s ok, just important not to open oven while baking or cooling.
To make up for a bit uneven shape, you can cut uneven sides off before serving it.