Tag: spinach (Page 1 of 1)
November 5th, 2016 in Sides by Julia Volhina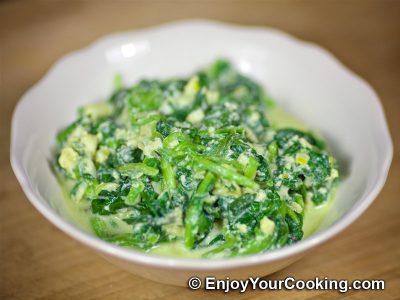 Creamy Spinach with Eggs is my goto side dish recipe for baked or grilled salmon.
If you are looking for more ways to add some leafy greens into your diet – this may be a recipe to try.
Fresh spinach with eggs and sour cream cooks in minutes, is packed with nutrients and also tastes great.
By the way spinach volume will reduce significantly while cooking, so don't get surprised and start with a big bunch.
June 4th, 2016 in Hot Soups, Soups by Julia Volhina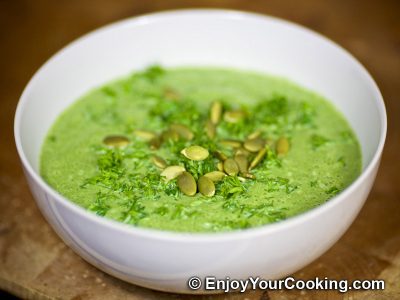 Recipe for pretty light soft soup-puree made of summer squash, spinach and milk. And isn't this radiant green color fantastic?
Any kind of summer squash or combination of these will work for this recipe I think, I used young zucchini and yellow squash.
Use milk for lighter version (I've used milk here) or half-half for reacher one.
Also, I've cooked fresh spinach for this recipe, but I think frozen may work as well if added to the pot later in the process to avoid overcooking, the color maybe vary in this case.
February 4th, 2012 in Chicken, Main Dishes by Julia Volhina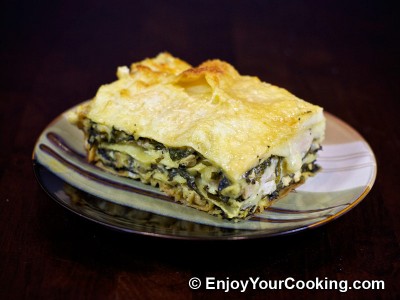 Don't get scared by amount of ingredients: it isn't that complicated to cook chicken lasagna with spinach and fresh cheese at home, especially if you have noodles which doesn't require boiling.
Of course it will take some time too cook stuffing as well white sauce, but at the end you will get whole baking pan of tasty creamy lasagna.
I used fresh spinach, but frozen will work good too, just thaw it before cooking and drain liquid before mixing with cooked chicken. Tvorog (fresh cow cheese) can be replaced with ricotta of the same weight as well.
Serve lasagna 10-15 mins after you take it from the oven; leftovers can be stored in fridge and re-heated in microwave.