Tag: spread (Page 1 of 1)
August 24th, 2013 in Sauces & Dips & Spreads by Julia Volhina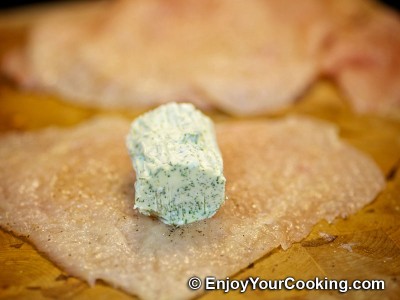 Herb or herbed butter is not only a good way to dress plain butter for further use, but also a good way to preserve fresh dill if you have too much on your hands and no other use for it.
For some reasons stores here choose to sell dill in such big bunches that it is sometimes too hard to put it all to use before dill spoils. By the way, you can mix other fresh herbs to prepare herb butter.
Herb butter is essential ingredient of Chicken Kiev recipe (which goes out next week), but it can be also used on steaks, fish, potato or other vegetables.
September 11th, 2010 in Appetizers & Snacks by Julia Volhina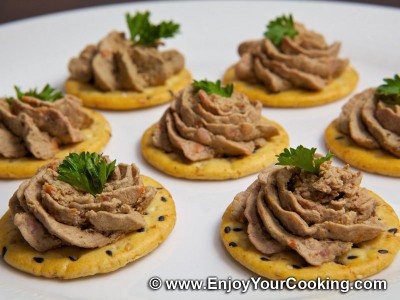 I find dishes from any kind of liver not very popular on this side of the globe. However I can't see anybody not liking this one: chicken liver pâté or "pashtet" like it is called in Russia.
Pate in russian cousine is prepared mostly from liver cooked, ground and mixed with butter and few additions to taste. For chicken liver pate I add onions, carrots, a dash of nutmeg and a spoon of cognac, see the instruction below.
Chicken liver pate can be served as appetizer or snack, on bread, toasts, crackers or flat breads. You can also exercise a pastry chief inner self and arrange pate flowers using pastry bag.
November 28th, 2009 in Appetizers & Snacks, Sides by Julia Volhina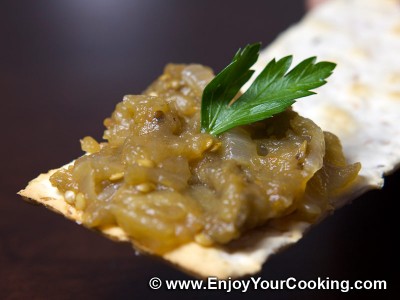 Here is an eggplant paste recipe how my grandma used to do it: all full of vegetable goodness, and I love its taste (still a bit hard to get it taste exactly the way how grandma's is but I am working on it).
Baked eggplant paste makes a perfect side dish for meat or vegetable entrees, as well as it can be a great appetizer – just pour a bit on a whole wheat cracker, or spread it over a piece of bread and get a healthy snack.
Prepared eggplant paste can be stored in a fridge for several days and it tastes good cooled.