Tag: yogurt (Page 1 of 1)
March 12th, 2016 in Sauces & Dips & Spreads by Julia Volhina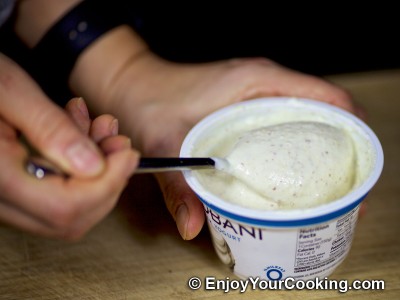 Yogurt, mustard and lemon juice salad dressing tastes great especially in meat based salads, but is also good with tomatoes, good on sandwiches and as dipping sauce.
It can be used as lighter substitute for mayo: if you compare 900 calories for 5oz of mayo to about 140 calories of similar amount of this dressing.
Now, taste of this dressing will vary based on what kind of mustard you use, as well as based on proportion of mustard and lemon juice. Just experiment with different types and proportions to your liking.
I like using chobani yogurt for this one: there is enough space in the container to fit mustard and juice and mix, so no need to use extra bowl for mixing.
August 2nd, 2014 in Desserts, Salads by Julia Volhina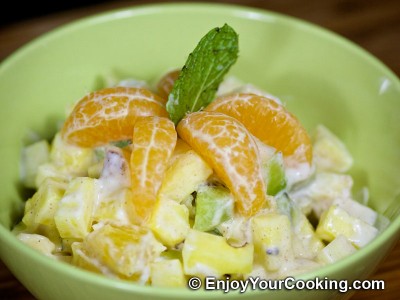 Here is your step away from something usually called a dessert: fresh fruit salad dressed with plain yogurt.
No flour, no sugar, almost no fat (if you use low-fat yogurt); only fresh raw fruits loaded with vitamins and tons of good nutrients.
Besides being a dessert, this salad can be great choice for breakfast or lunch or just a snack when you need it.
You can mix and match fruits to your liking for this one. I used pineapples, banana, orange, apple, kiwi and pear. Mint is also optional and can be skipped it if you don't like it.
May 9th, 2009 in Sauces & Dips & Spreads by Julia Volhina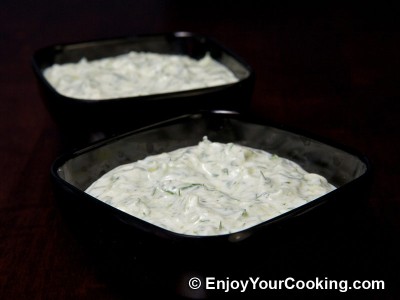 Tzatziki (can be spelled as tzadziki or tsatsiki) is yogurt and cucumber cold sauce of Greek cuisine.
It can be served separately as a dip or with meat entrees as a sauce. It is perfect addition for the gyros or souvlaki.