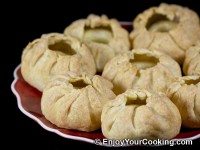 Fall is season not only for pumpkins but apples too. And I love baked apples.
Sticking apple into an oven is probably an easiest way to cook them. Baking apples in a dough as dumplings is a bit more sophisticated, but not whole a lot more complicated.
You can play a bit with taste: add cinnamon, or stuff apple with some raisins or nuts to your taste.
Baked apple dumplings taste the best when served warm.
Ingredients:
5 medium size apples
Sugar to taste
1 stick (4oz) of margarine for baking or butter, cold
1.5 cups of all purpose flour plus a bit more for dusting
1/2 – 3/4 of kefir or not so thick sour cream, cold
1/2 tsp of baking powder
How to prepare, step-by-step:
Baked apple dumplings taste best warm, they may benefit of a scoop of ice cream; but cooled down ones are good too.
Enjoy!
2 Responses to "Baked Apple Dumplings"