Tag:
baked

(Page 3 of 3)

October 3rd, 2009 in Chicken, Main Dishes by Julia Volhina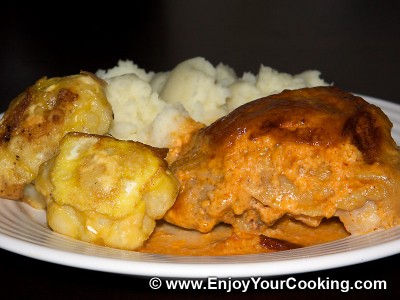 It is chicken time! And I think, one of the easiest ways to prepare various parts of chicken (or even chicken in a whole!) is to bake them with some spices.
Baked Spicy Chicken dish is great for the dinner: its cooking doesn't require much of attention, which gives you time to take care of other important things :). However you will need to start cooking it in advance to let chicken soak in the sauce.
So let's mix up some spices, garlic, mayonnaise, pour it over the chicken and bake it all together.
August 8th, 2009 in Duck, Main Dishes by Julia Volhina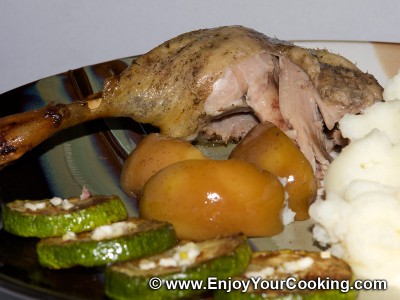 I find duck dishes somehow not so popular in US. Not every Asian restaurant has duck on the menu, which surprises me a lot as I always thought about ducks being almost national Chinese food.
Maybe it has something to do with the so called "bird flu" which caused the panic a few years ago, or maybe it is related to the fact that duck meat is not considered "healthy" due to the amount of fat it contains, or it could be just because people are too used to see those birds alive on the streets (yes, I live in Columbus, OH and there are tons of ducks and Canadian geese slugging around on every parking lot, as a result I see more ducks on the city streets than on the plates, which would be unbelievable in let's say Europe 🙂 ).
Nevertheless, I like duck meat. Taste of baked duck with apples reminds me of family celebrations in my childhood, such as New Year or birthdays parties. Fortunately I could find a deeply frozen duckling in the local Kroger. I baked it and, must say, the taste was delicious. So now I can share with you my article about how to prepare Duck Baked with Apples with step-by-step guide and photos included.