Tag:
cocoa

(Page 1 of 1)

June 5th, 2010 in Desserts by Julia Volhina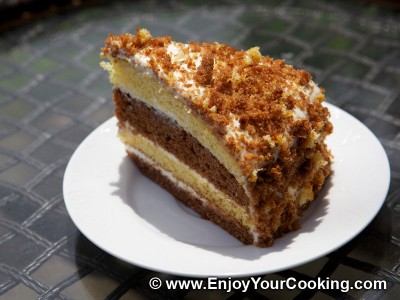 Yuriy had his birthday 2 weeks ago, so I decided to cook him a cake. Somehow we ended up eating whole cake just by ourselves; so we will need to work out more now 🙂
I've used this simple recipe of homemade cake which is very popular in Russia and other countries of ex-USSR. Because of the sour cream frosting it is often called "smetannik", which basically mean "made of sour cream" in russian.
If you decide to make this cake – make sure you have enough time to let sour cream to soak to into each layer of the cake after it is assembled; 6-8 hours are usually enough. If you prepare cake a night before you are going to serve it and then put to fridge – it is even better.