Tag:
cake

(Page 1 of 1)

January 7th, 2012 in Desserts by Julia Volhina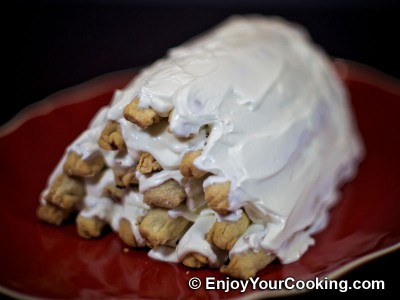 This cake looked unusual even for me when I saw it first time: doesn't it resemble a bunch of firewood covered with a snow to you?
This recipe is Yuriy's mom speciality dessert and it often appears on the table during family celebrations. Yuriy's mom preserves pitted sour cherries in their own juices under sugar each season, so there are always plenty of them ready for use.
If you don't have sour cherries preserved in such way – you can always go with pitted cherry kompot like I did, but in this case add a bit of sugar to the dough, or cake will not be sweet enough.
I would want to tell you that this cake is easy and fast to do, but I can't. It took me quite some time to make dough, prepare "firewood" sticks and then assemble the cake; but that is probably because I cooked it first time in my life.
After cake is assembled allow some time for layers to soak in sour cream frosting to get soft: leave it in cool place (but not fridge) at least over night (depending on how liquid sour cream is it may take longer). It is good idea to prepare cake at least a day before you are planning to serve it.
June 5th, 2010 in Desserts by Julia Volhina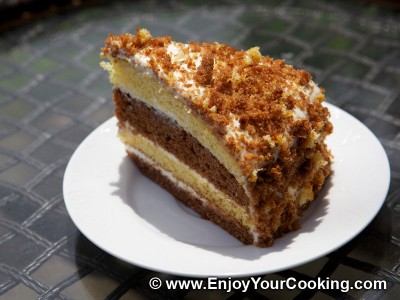 Yuriy had his birthday 2 weeks ago, so I decided to cook him a cake. Somehow we ended up eating whole cake just by ourselves; so we will need to work out more now 🙂
I've used this simple recipe of homemade cake which is very popular in Russia and other countries of ex-USSR. Because of the sour cream frosting it is often called "smetannik", which basically mean "made of sour cream" in russian.
If you decide to make this cake – make sure you have enough time to let sour cream to soak to into each layer of the cake after it is assembled; 6-8 hours are usually enough. If you prepare cake a night before you are going to serve it and then put to fridge – it is even better.
November 7th, 2009 in Desserts by Julia Volhina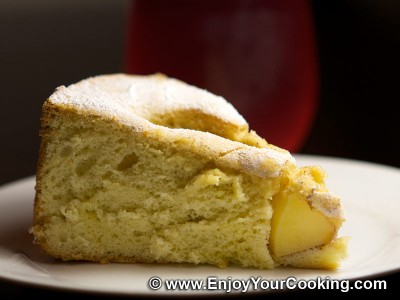 Autumn always comes with tastes of a harvest: for me autumn tastes like apples, even though you can get them at any grocery shop any time of the year.
Since I've got my apples, a big pack of them actually, my house keeps smelling like autumn. During last weeks we had a duck with apples for a dinner, baked apples for a snack and even kompot with apples and cranberries.
I've also prepared this sponge cake with apples and light hit of cinnamon last sunday and now I can share this easy recipe with you, so you can enjoy the taste of autumn with me.