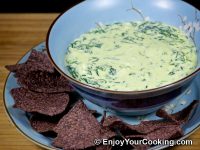 One more recipe to the lineup of appetizers using cream cheese for me. This time it is for hot spinach cream cheese dip with parmesan and garlic.
Good choice if you are looking to increase the amount of leafy greens in your diet.
It is pretty easy to do and you can get a bowl full of goodness ready for your party or gathering literally in minutes.
Serve hot with tortilla chips or veggies.
Ingredients:
12oz of spinach sliced
1 pack of cream cheese (8oz)
1/3 cup of grated parmesan
Small garlic clove
Ground black pepper
Salt
Olive oil
How to prepare, step-by-step:
Enjoy!