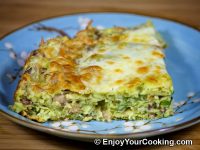 This is a variation of a quiche pie with chicken and mushrooms and no crust.
Not a quickest recipe to cook, however as soon as you stick it to the oven, it does not require much attention, just checking the readiness would be the thing to do.
Using pre-cooked chicken (rotisserie or boiled leftovers) is an option here, just fry mushrooms alone and add cooked chicken to the batter. It will speed up the cooking as well.
This pie would taste great for breakfast, lunch or brunch.
Ingredients:
10 oz of boneless skinless chicken meat
6 oz of mushrooms
Bunch of green onions (about 4 oz)
Bunch of dill to taste
3 eggs
3 oz of shredded cheese, Italian blend works good
0.75 cups of flour (or how ever much the dough will require depending on how liquid sour cream is)
About 5 oz of sour cream, if very thick dilute it with kefir or milk a bit
1.5 tbsp of baking powder
Ground black pepper to taste
Salt to taste
Butter for frying
How to prepare, step-by-step:
Enjoy!