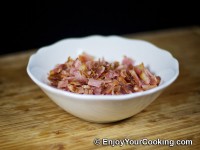 I have several recipes using bacon crumbles, so I decided to post step-by-step instructions on how to prepare these at home.
Process is not complicated, and will not take more than 15-20 mins along with cooling down.
How to prepare, step-by-step:
Tip and Advises
Fat produced from bacon while cooking can be used in other recipes for frying, just pour it to the skillet instead of oil or butter. Potatoes fried in bacon fat taste extremely good (but are a bit less healthy, of course).