Bean, Cucumber and Bell Pepper Salad
July 6th, 2013 in Salads by Julia Volhina

Total cooking time:

15min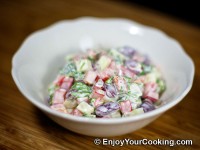 This is an easy salad with boiled beans, fresh bell pepper and cucumber which can be assembled in under a 15 mins if you are fast with chopping and dicing.
Any kind of beans will work for this recipe, you can also boil beans yourself instead of using canned ones, just let them cool down till room temperature before adding them to the salad.
Fresh green parsley can be substituted for cilantro if you don't like cilantro or can find it for some reason. But I like taste of bean salad with cilantro the most.
Ingredients:
16oz can of plain red kidney beans
½ of english cucumber, or couple of baby cucumbers
1 medium size bell pepper
Bunch of cilantro
1 small garlic clove
Mayo to taste
Ground black pepper to taste
Salt to taste
How to prepare, step-by-step:
Enjoy!