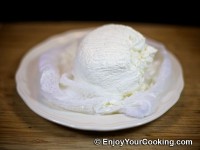 This is somewhat easier way to get quark (fresh cheese): it requires less time since you don't need to sour milk and such, since kefir is used instead.
There is a trade off to that of course, the taste of quark will depend greatly on taste of kefir itself, as well as its fat content. So use good quality kefir to prepare quark.
Note: 2 quarts of low fat kefir will make you about a pound of quark.
Ingredients and Tools:
2 quarts of plain unsweetened unsalted kefir
Cheesecloth
How to prepare, step-by-step:
Tip and Advises
3 Responses to "How to Make Quark (Fresh Cheese) from Kefir"