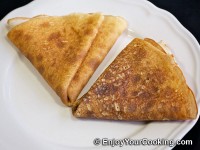 Kefir based crepes have more tender than milk based ones, but they are also harder to do.
Amount of flour to use will depend on thickness of the kefir you have (an that will vary based on brand), somewhere between 2 cups and 2 and half that is what I usually use. If you have choice – use more runny kefir.
There are couple of things you can do if crepes tear when you try to flip them: one of them is to add more flour – but that will not work good if kefir you are using is too thick, then you can put more eggs, and the last resort it to use smaller skillet – then flipping will be easier.
Ingredients:
1 qt of plain kefir
2-3 eggs
4 tbsp of sugar
0.5 tsp of salt
1 tsp of baking soda
3 tbsp sunflower oil
About 2 cups of flour
Vanilla sugar or so to taste (optional)
2 tablespoons of butter
How to prepare, step-by-step:
Enjoy!
2 Responses to "Kefir Crepes"