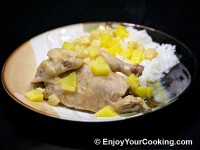 Hens cooked by this recipe turn out juicy, seriously juicy. If you don't have cornish hens – you can cook pieces of chicken like this with similar result.
About 3 hours of marinating is enough, but if you want it can be done overnight, just make sure that chicken is fully covered with marinade.
Leftovers can be stored and warmed up in the same pot with sauce, the meat will not lose its juiciness.
Ingredients:
3 cornish hens, about 2lb in total
1 cup of dry white wine
3 cups of pineapple juice
1/2 of fresh pineapple
2 bananas
Ground black pepper to taste
Salt to taste
1/2 cup of oil
How to prepare, step-by-step:
Enjoy!
2 Responses to "Chicken Roast with Pineapples, Bananas and White Wine Sauce"