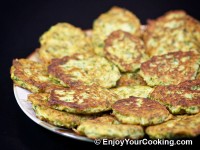 These are zucchini based vegetable pancakes with a bit of fresh sheep cheese, which can be optional if you don't like sheep cheese, but to my opinion it benefits a lot to the taste.
You can use zucchini or other kind of summer squash; remove seeds they already formed before cooking.
Vegetable pancakes are good choice for breakfast, brunch or lunch. Serve them warm with sour cream or sour cream and garlic dip how I did.
Ingredients:
2lbs of zucchini
1/2-3/4 cups of shredded sheep cheese
2 eggs
Bunch of fresh green parsley
Bunch of fresh green dill
All purpose flour, about 1/2 cup
1 pack of dry yeast (about 2 tablespoons) or 0.5oz of raw yeast
Salt to taste
Oil for frying
How to prepare, step-by-step:
Enjoy!