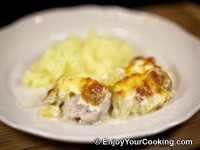 This easy yet very tasty chicken meat roast is perfect choice for romantic or family dinner.
If you buy pre-packaged boneless skinless chicken thighs (like me) all you need to do is to arrange them in baking pan, cover with layers of pineapple chunks, bananas slices, mayo and cheese, then stick pan to the oven.
Serve hot with mashed potatoes or rice.
Ingredients:
2.5lb of chicken boneless meat
1 cleaned pineapple (or canned one)
3-4 bananas
3 cups of shredded mozzarella
Ground black pepper to taste
Salt to taste
Mayonnaise
How to prepare, step-by-step:
Enjoy!
6 Responses to "Chicken Meat Roasted with Pineapple and Bananas"