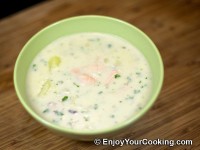 There is no better food for crispy fall weather than a cup of thick freshly cooked hot chowder.
This chowder is prepared using salmon and potato as main ingredients and cream and potato starch for thickening. Lemon is optional and can be omitted.
You can regulate thickness to your taste by adding more or less of the starch.
Ingredients:
1.5lb of salmon fillet
1.5lb of potato
1 big onion
1.5 cups of heavy cream
3 tablespoons of potato starch
3 bay leaves
6 cups of water
2-3 tablespoons of olive oil
A tablespoon of butter
Half of lemon
Bunch of green parsley
Ground black pepper
Salt to taste
How to prepare, step-by-step:
Enjoy!