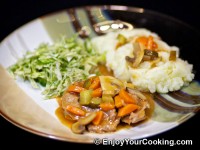 This is a recipe for tender veal stewed with mushrooms, carrots and pickled cucumbers in dry red wine and tomato sauce.
If you are searching for some main dish for special occasion or romantic dinner check it out.
In my opinion mashed potatoes are the best side dish for this main dish, if you are looking for one.
Ingredients:
2lb-2.5lb of veal meat
0.5lb of mushrooms
4-5 cucumbers pickled in salt
2 carrots
2 tbsp of flour
1 tbsp of tomato paste
1 1/2 cups of hot water
1/2 cup of dry red wine
About 20 black peppercorns
2-3 tablespoons of oil
Salt to taste
How to prepare, step-by-step:
Enjoy!