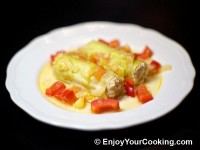 When I saw recipe for stuffed leeks first time I decided for myself that I get to try cook something like this for sure: it looks unusual, have a lot of vegetables and doesn't look hard to cook.
I decided to stuff them with chicken mince and rice and accompany it with tomato and bell pepper mix.
I did 2 layers pipes, but if you want to use less leeks you can separate leeks into 1 layer.
Ingredients:
2-4 leeks
1lb of minced chicken meat
3 tablespoons to rice
1 egg
3 tomatoes
1 red bell pepper
1 cup of dry white wine
Ground black pepper to taste
Salt to taste
Tablespoon of oil
How to prepare, step-by-step:
Enojy!