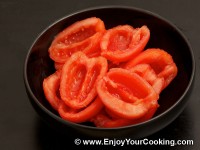 Blanching and deseeding tomatoes may seem like a hassle considering big choice of canned already blanched and deseeded tomatoes in a nearby grocery shop.
However, I think no canned tomatoes or tomato paste can compare with the fresh tomatoes blanched and deseeded right before cooking.
Blanched and sometimes also deseeded tomatoes are used to cook soups and stews, as well as to prepare tomato juice, tomato paste, various dips and sauces.
Step-by-step instructions:
4 Responses to "How to Blanch and Deseed Tomatoes"