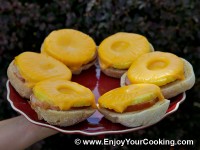 This is a kind of sandwich you would call hawaiian, and I guess that is mostly because of ham and pineapple.
I never been to Hawaii, so can't tell what's up with them and pineapple / ham combination. So I just roll with it 🙂
The whole trick here is to assemble sandwiches (by the way, you can do it in advance) and then put them to the oven for the time enough to melt cheese and warm the rest up, just before you are planing to bring sandwiches to the table, and when ready – serve warm.
Ingredients in this recipe is enough to prepare hot 6 sandwiches, if you need more or less just adjust amounts.
Ingredients:
3 round buns of your choice, I've used ciabatta rolls
6 pieces of canadian bacon or ham
6 wrapped slices of american cheese
6 slices of pineapple, fresh or canned
2-3 tablespoons of butter
How to prepare, step-by-step:
Enjoy!