Tag:
sandwich

(Page 1 of 1)

July 14th, 2012 in Fish, Main Dishes by Julia Volhina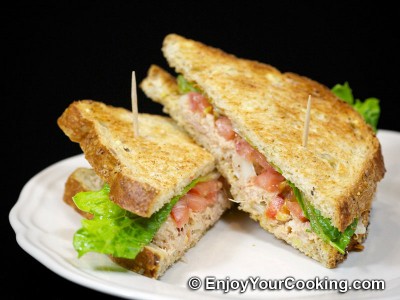 Tuna salad sandwich is a great choice of food for a lunch or to take with you when you are on the go.
This tuna salad with eggs, bell pepper and a bit of onions is easy to do, and can be stored in a fridge for couple of days if needed.
I use tuna chunks in water, but tuna in oil will work as well, if you like it more – use it.
Listed amount ingredients is enough for 11-12 sandwiches.
December 4th, 2010 in Appetizers & Snacks by Julia Volhina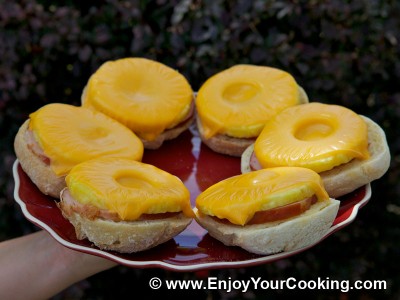 This is a kind of sandwich you would call hawaiian, and I guess that is mostly because of ham and pineapple.
I never been to Hawaii, so can't tell what's up with them and pineapple / ham combination. So I just roll with it 🙂
The whole trick here is to assemble sandwiches (by the way, you can do it in advance) and then put them to the oven for the time enough to melt cheese and warm the rest up, just before you are planing to bring sandwiches to the table, and when ready – serve warm.
Ingredients in this recipe is enough to prepare hot 6 sandwiches, if you need more or less just adjust amounts.