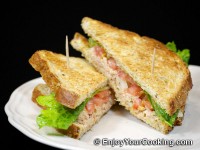 Tuna salad sandwich is a great choice of food for a lunch or to take with you when you are on the go.
This tuna salad with eggs, bell pepper and a bit of onions is easy to do, and can be stored in a fridge for couple of days if needed.
I use tuna chunks in water, but tuna in oil will work as well, if you like it more – use it.
Listed amount ingredients is enough for 11-12 sandwiches.
Ingredients:

Tuna salad
24oz (two 12oz cans) of tuna chunks
2 eggs
1 small bell pepper or half of bigger one
1/2 of medium size onion
Mayonnaise
Ground black pepper to taste
Salt to taste

For each sandwich
2 toast bread pieces
2-3 tablespoons of tuna salad
1-2 tomato circles
A leaf of lettuce
How to prepare, step-by-step:
Enjoy!
4 Responses to "Tuna Salad Sandwich"