Tag:
tuna

(Page 1 of 1)

October 8th, 2016 in Salads by Julia Volhina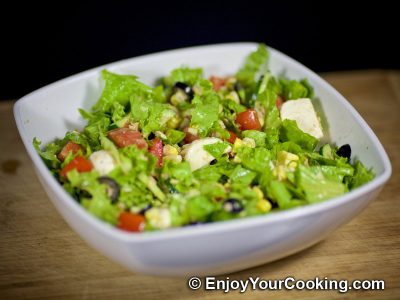 Tuna and Mozzarella salad is my goto light salad with a bit of protein. It works great for training days, because I don't feel hungry after it but I also don't feel like I eat whole bunch of unhealthy stuff.
A lot in this salad depends on the taste of tuna, so use the kind of tuna you like. If you plan to use tuna canned in oil, you may reduce amount of oil in the salad dressing to balance calories consumed.
Fresh corn they sell here in US is usually soft, sweet and juicy, so I use it for this salad myself, however canned corn works just as well.
July 14th, 2012 in Fish, Main Dishes by Julia Volhina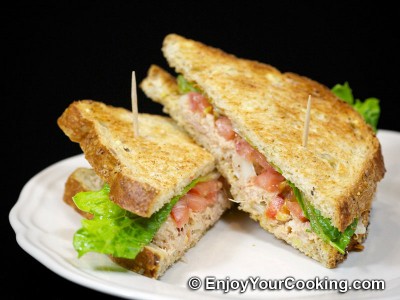 Tuna salad sandwich is a great choice of food for a lunch or to take with you when you are on the go.
This tuna salad with eggs, bell pepper and a bit of onions is easy to do, and can be stored in a fridge for couple of days if needed.
I use tuna chunks in water, but tuna in oil will work as well, if you like it more – use it.
Listed amount ingredients is enough for 11-12 sandwiches.
January 3rd, 2009 in Salads by Julia Volhina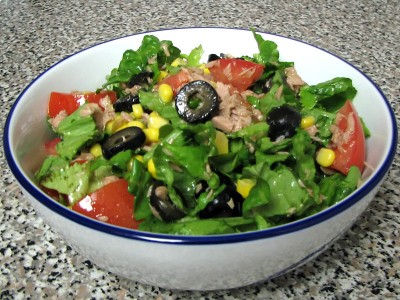 This good, nutritious and light salad with tuna and lettuce is an easy way to watch your weight without feeling hungry all the time.
Tuna is great source of protein and can also provide with omega-3 fatty acids if canned properly, so check the label on the can before choosing it for the salad.
Green tuna salad is pretty easy and fast to do, great choice for lunch or light dinner.