Tuna and Mozzarella Salad
October 8th, 2016 in Salads by Julia Volhina

Total cooking time:

15min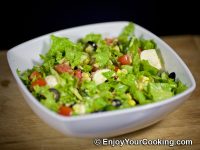 Tuna and Mozzarella salad is my goto light salad with a bit of protein. It works great for training days, because I don't feel hungry after it but I also don't feel like I eat whole bunch of unhealthy stuff.
A lot in this salad depends on the taste of tuna, so use the kind of tuna you like. If you plan to use tuna canned in oil, you may reduce amount of oil in the salad dressing to balance calories consumed.
Fresh corn they sell here in US is usually soft, sweet and juicy, so I use it for this salad myself, however canned corn works just as well.
Ingredients:
3 oz canned tuna in water
4 oz fresh mozzarella (I used bocconcini)
1 big tomato, or 3-4 campari tomatoes
1 baby cucumber (missing on the picture)
2 oz of lettuce (4-5 medium size leaves)
3 oz of canned or fresh young corn (about a half of an ear)
10 large pitted black olives
0.5 tablespoon of olive oil, or more to taste
Salt to taste
Ground black pepper to taste
How to prepare, step-by-step:
Enjoy!
Nutrition Facts
Servings Per Recipe: 1
Calories Per Serving
:
253
Calories from Fat 135
Amount Per Serving
% Daily Value*
---
---
Amount Per Serving
% Daily Value*
---
Total Carbohydrate
16g
5%
---
*Percent Daily Values are based on a 2,000 calorie diet. Your daily values may be higher or lower depending on your calorie needs.
Note: Nutritional information is calculated approximatelly based on recipe amounts and generic ingredients used, real life numbers will vary.