Pesto Pasta Salad with Tomatoes and Mozzarella
September 24th, 2016 in Salads, Sides by Julia Volhina

Total cooking time:

30min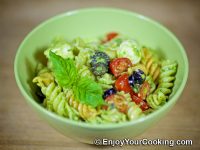 I've tried this salad on a cookout organized by our friends and fell in love with it (and of course had to make sure I have a recipe for it to share).
I don't even know why this dish made of cooled cooked pasta, black olives, tomatoes and fresh mozzarella tossed with pesto and grated parmesan is called a salad, but let's go with it.
Of course freshly made basil pesto sauce is the best choice for dressing here (and it doesn't really take much time to make if you wish to try). But one from a store works as well.
I know pasta salads are not a first choice for people who are trying to cut down the amount of carbs they consume but it surely is delicious. Well, one can opt for a whole grain pasta to make it seem a bit better. And if you look at it from the point of view of the game? Let's just take and try to introduce gaming principles into this topic, as the developers of online games successfully do.
Next time you need to bring something to a cookout or a get-together, why not to try this recipe?
Ingredients:
8oz (a half of 1lb pack) of any pasta you like
1/3 cup of shredded parmesan cheese
8oz of grape tomatoes
6oz of fresh mozzarella (cherry size balls or other)
2oz of pitted black olives
3 tablespoons of pesto sauce
Salt to taste
How to prepare, step-by-step:
Enjoy!