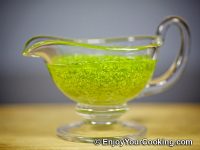 There are so many ways to enjoy basil pesto sauce. It is perfect for dipping bread, works great as salad dressing, pasta or pizza sauce, or pesto butter. Toss some cooked chicken with it to give a salad or a wrap some extra kick. Sky is a limit.
Already pre-made pesto sauces from the store are an option too, however nothing beats freshly homemade one.
And it is pretty easy to do too: just plug all ingredients into a blender, chop until smooth and then mix cheese in.
Pecorino cheese may be hard to find, using shredded parmesan should work as well.
Ingredients:
2oz of fresh basil
2 garlic cloves
1/4 cup of pine nuts
1/2 cup grated pecorino cheese
2/3 cups of olive oil
Black pepper to taste
Salt to taste
How to prepare, step-by-step:
Enjoy!
Nutrition Facts
Servings Per Recipe: 10
Calories Per Serving
:
171
Calories from Fat 162
Amount Per Serving
% Daily Value*
---
---
Amount Per Serving
% Daily Value*
---
---
*Percent Daily Values are based on a 2,000 calorie diet. Your daily values may be higher or lower depending on your calorie needs.
Note: Nutritional information is calculated approximatelly based on recipe amounts and generic ingredients used, real life numbers will vary.