Tag:
pesto

(Page 1 of 1)

September 24th, 2016 in Salads, Sides by Julia Volhina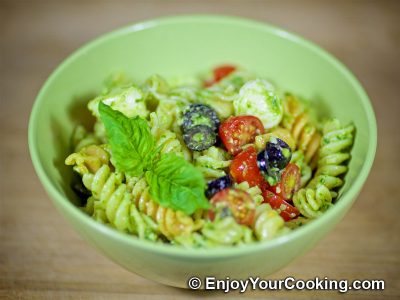 I've tried this salad on a cookout organized by our friends and fell in love with it (and of course had to make sure I have a recipe for it to share).
I don't even know why this dish made of cooled cooked pasta, black olives, tomatoes and fresh mozzarella tossed with pesto and grated parmesan is called a salad, but let's go with it.
Of course freshly made basil pesto sauce is the best choice for dressing here (and it doesn't really take much time to make if you wish to try). But one from a store works as well.
I know pasta salads are not a first choice for people who are trying to cut down the amount of carbs they consume but it surely is delicious. Well, one can opt for a whole grain pasta to make it seem a bit better.
Next time you need to bring something to a cookout or a get-together, why not to try this recipe?
September 10th, 2016 in Sauces & Dips & Spreads by Julia Volhina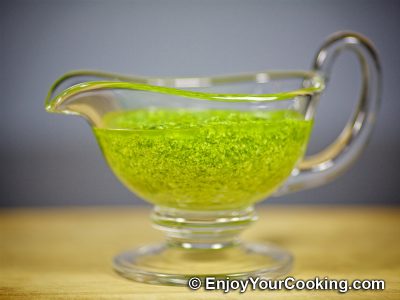 There are so many ways to enjoy basil pesto sauce. It is perfect for dipping bread, works great as salad dressing, pasta or pizza sauce, or pesto butter. Toss some cooked chicken with it to give a salad or a wrap some extra kick. Sky is a limit.
Already pre-made pesto sauces from the store are an option too, however nothing beats freshly homemade one.
And it is pretty easy to do too: just plug all ingredients into a blender, chop until smooth and then mix cheese in.
Pecorino cheese may be hard to find, using shredded parmesan should work as well.