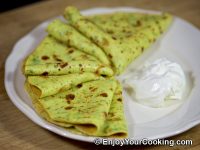 Savory crepes with no sugar added and lower amount of flour than in traditional crepes due to usage of zucchini pulp – yes, count me in!
Amount of flour specified in the recipe is somewhat approximate. You may end up using more or less depending on how liquid the kefir is.
Generally you don't want to get batter to thick for crepes to become too thick, but you also don't want to make it too thin either because it will be hard to turn a crepe over when frying (it may tear).
So if crepe tears when you try to flip it, add a bit flour in before frying next one, or if it turns out too thick – add a bit of kefir to the batter.
Kefir makes crepes very tender, and may be somewhat hard to flip in general, so use smaller frying pan to make the process easier.
Ingredients:
1.5 lb of zucchini
1 cup of all purpose flour (more or less, depending on the batter consistency)
4 eggs
1.5 cups of plain unsweetened kefir
Small bunch of fresh dill (about 1 tablespoon chopped)
Small bunch of fresh parsley (about 1 tablespoon chopped)
1 tablespoon of oil for the batter plus more for frying
Salt to taste (about 0.5 teaspoons)
1 teaspoon of baking powder
Butter
How to prepare, step-by-step:
Enjoy!