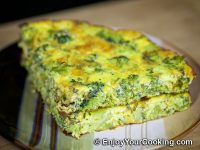 If you like quiches for breakfast or brunch but don't want to mess with puff pastry (or trying to cut off some carbs and fat) try this recipe for an omelette with broccoli.
I used fresh broccoli crowns (they are pretty inexpensive and taste great being in season and such), however frozen ones will probably work as well.
Cooking time for the omelette will depend on the size of the pan and amount of ingredients you use. Start testing readiness at 20 mins mark with a wooden toothpick. When omelette is ready, the toothpick should come out clean when stuck into the middle of the omelette.
Amount of ingredients from this recipe will produce 2 portions.
Ingredients:
4-5 eggs
6-7oz of fresh broccoli crowns or frozen broccoli florets
2.5 oz of sour cream or unsweetened yogurt
2 oz of shredded cheddar
Small bunch of fresh parsley and dill
1 small garlic clove
Ground black pepper to taste
Salt to taste
Butter
How to prepare, step-by-step:
Enjoy!
Nutrition Facts
Serving Size:
1/2 of total yeild
Servings Per Recipe: 2
Calories Per Serving
:
338
Calories from Fat 207
Amount Per Serving
% Daily Value*
---
---
Amount Per Serving
% Daily Value*
---
Total Carbohydrate
13g
4%
---
*Percent Daily Values are based on a 2,000 calorie diet. Your daily values may be higher or lower depending on your calorie needs.
Note: Nutritional information is calculated approximatelly based on recipe amounts and generic ingredients used, real life numbers will vary.
One Response to "Omelette with Broccoli"