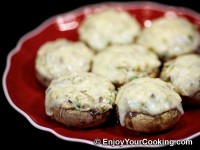 I saw these gorgeous fresh mushrooms in the store, and it seemed they were asking to be stuffed – clean, big and even sized.
I decided to stuff them with creamy chicken and feta cheese mix dressed with sour cream and a bit of fresh parsley. If this sounds like a good idea to you, try this recipe.
And by the way, it can be served as an appetizer (especially if you use bite size mushroom caps), snack or even main course.
Ingredients:
0.5lb of chicken meat
1.5-2oz of feta cheese
10 big fresh field mushrooms, about 1.5lb
4 tablespoons of original sour cream
1 tablespoon of flour
About half cup of shredded mozzarella
Fresh parsley to taste
Ground black pepper to taste
Salt to taste
Tablespoon of oil
How to prepare, step-by-step:
Enjoy!