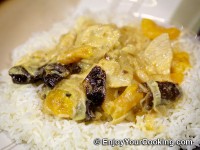 I wasn't a big fan of curry, until I actually tried it.
Some time ago we discovered a small family owned buffet which serves pakistani food that with no surprise comes with a lot of curry. And I like it a lot, in fact we are lunching there at least once a week.
So I wanted to try to cook with curry myself, and this is a dish I attempted first: creamy chicken with prunes and dried apricots and, of course, curry.
And it turned out great.
Ingredients:
1.5lb of chicken breast
4oz of prunes
4oz of dried apricots
1-2 onions
1.5 cups of heavy whipping cream
Curry to taste
Salt to taste
1 tablespoon of oil
How to prepare, step-by-step:
Enjoy!
3 Responses to "Curry Chicken with Prunes and Dried Apricots"