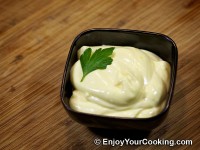 I am surprised how hard it is to find decent quality mayonnaise here, in States. For a while we were getting away with mayo from the local European store. But for some reason they recently ran out of the brand I liked and stopped carrying it.
So I was left out to make my mayo myself. After all it is also better to know what the mayo you eat is made of, that is: egg yolks, mustard, oil, vinegar, salt and sugar to taste, that is it.
Whatever tools you use for mixing, mayo make sure that mixing part can reach all sides and bottom of the mixing bowl, it is important that the oil is mixed in completely and it should not sit on the sides.
I used hand blender with wire mixing attachment which only has fast speed, so I had to pulse it so it doesn't overheat (keeping handle vertical helped prevent spilling). I also had to make sure to keep cap from rotating, I would prefer to have 3 hands to make it more elegant: one to hold cap, one to hold blender and one to gradually pour oil in.
Ingredients:
2 big egg yolks
About 1 cup of sunflower oil
1 teaspoon of ground mustard
0.5 teaspoon of salt (or more to taste)
0.5 teaspoon of sugar
0.75-1 tablespoon of white wine vinegar (5% acidity)
Water to taste, between 1 and 2 tablespoons, boiled and cooled down
How to prepare, step-by-step:
Enjoy!
9 Responses to "Homemade Mayo with Egg Yolks and Mustard"