Tag:
vinegar

(Page 1 of 1)

August 9th, 2014 in Appetizers & Snacks, Salads, Sides by Julia Volhina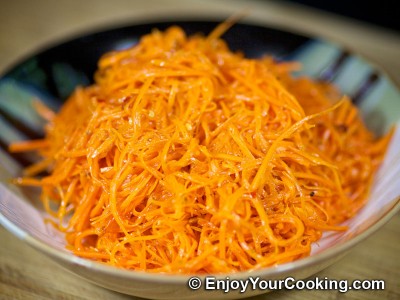 Korean style carrots ("morkovka po-korejski") is a popular in post-USSR countries dish which is usually served as salad, side dish or relish.
Often it is also served on hot dogs along with sausage inside the bun.
These pretty spicy carrots are great side for meats or poultry. They can also be used as one of ingredients for salads and other dishes.
August 4th, 2012 in Sauces & Dips & Spreads by Julia Volhina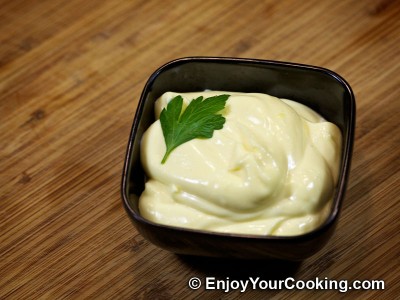 I am surprised how hard it is to find decent quality mayonnaise here, in States. For a while we were getting away with mayo from the local European store. But for some reason they recently ran out of the brand I liked and stopped carrying it.
So I was left out to make my mayo myself. After all it is also better to know what the mayo you eat is made of, that is: egg yolks, mustard, oil, vinegar, salt and sugar to taste, that is it.
Whatever tools you use for mixing, mayo make sure that mixing part can reach all sides and bottom of the mixing bowl, it is important that the oil is mixed in completely and it should not sit on the sides.
I used hand blender with wire mixing attachment which only has fast speed, so I had to pulse it so it doesn't overheat (keeping handle vertical helped prevent spilling). I also had to make sure to keep cap from rotating, I would prefer to have 3 hands to make it more elegant: one to hold cap, one to hold blender and one to gradually pour oil in.
October 9th, 2010 in Beef, Main Dishes by Julia Volhina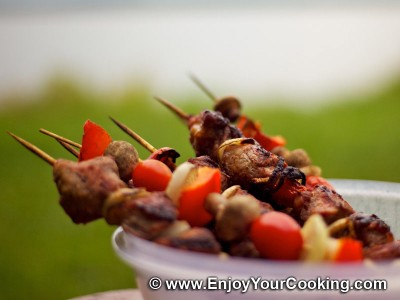 Cookout when we had these veal shish kebabs was rather extreme: we went to the lake (about 50 miles away), fired up grill, skewered meat, set it on the grill and then… rain started.
And it appeared to be not the light summer rain which we hoped for when we first saw clouds, but the cloudburst with thunders, lightnings and a hail in between, the cold one.
I don't know how we managed to keep that meat cooking, but it turned out good, maybe it even tasted better because we were guarding grill for half of hour with towel above it to keep it from getting wet.
By the way, to cook such shish kebab ("shashlik" or "shashlyk" how we call this dish in Russia) you will need skewers of some kind and of course grill (make it a charcoal one to get better taste) in additional to meat, onions, vinegar and spices. If you use wooden skewers, don't forget to soak them in the water at least for 1 hour before skewer meat on.