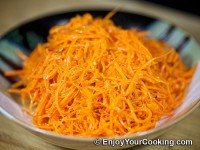 Korean style carrots ("morkovka po-korejski") is a popular in post-USSR countries dish which is usually served as salad, side dish or relish.
Often it is also served on hot dogs along with sausage inside the bun.
These pretty spicy carrots are great side for meats or poultry. They can also be used as one of ingredients for salads and other dishes.
Ingredients:
1lb of sweet thick carrots
1-2 garlic cloves
Crushed red pepper to taste
Peppercorn medley, including coriander, black pepper and allspice, to taste
1/4 cup of vegetable oil, I used sunflower oil
1 tablespoons of 6% vinegar
2 teaspoons of sugar (optional)
1 teaspoon of salt
How to prepare, step-by-step:
Enjoy!
One Response to "Korean Style Carrots"