Chicken Salad with Cucumbers and Korean Style Carrots
August 16th, 2014 in Salads by Julia Volhina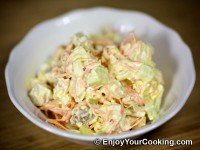 Yet another one chicken salad to be added to my list of recipes: tender chicken meat, boiled eggs, tasty cucumbers and spicy carrots prepare in korean style.
This salad will work great as a side or appetizer, or as a lunch meal itself, especially if you need something to take with you. It can be served plain, in a sandwich or in a wrap.
Salad can be dressed with a mix of mayo and sour cream instead of the mayo alone, if you are looking for healthier option.
Ingredients:
1lb of boneless skinless chicken meat
1lb of korean style carrots
3 eggs
4-5 baby cucumbers
1/2 cups of shredded cheese
Salt to taste
Mayo to taste
How to prepare, step-by-step:
Enjoy!