Raw Vegetable Salad with Feta
August 30th, 2014 in Salads by Julia Volhina

Total cooking time:

15min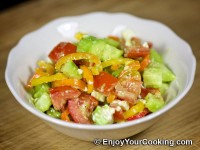 I am trying to eat my vegetables raw at the moment (losing some weight, trying to eat more healthy, running and such). So this is a salad which I make for myself for lunch at work to accomplish this.
It takes about 10 mins to do all the slicing and dicing. And maybe 5 more for cleaning and packing.
Occasionally I add to it raw corn, onions, spinach, lettuce to vary things up, but cucumbers, tomatoes, mini peppers and avocado are always present.
Ingredients:
4 baby cucumbers
2 ripe tomatoes
1 avocado
7-9 sweet mini bell peppers or 1 big one
3oz of crumbled feta
Olive oil to taste
Ground black pepper to taste
Salt to taste
How to prepare, step-by-step:
Enjoy!