Tag:
skewers

(Page 1 of 1)

August 15th, 2015 in Chicken, Main Dishes by Julia Volhina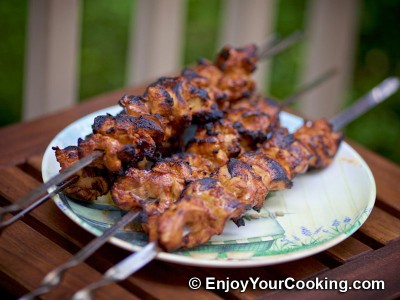 Nice recipe for summer cookout – spicy (and somewhat sweet because of paprika) tender chicken meat skewers. Easy to prepare, yet it is very delicious.
All the heavy lifting for marinating meat is done in advance and then skewers are cooked right before serving. One more positive side of this recipe.
We usually cook these on metal skewers over open hot charcoals. If you plan to use wooden sticks – make sure to soak them in water well in advance to prevent burning.
Alternatively, these can be cooked in the oven, using broil at the end for color is a plus.
June 1st, 2013 in Chicken, Main Dishes by Julia Volhina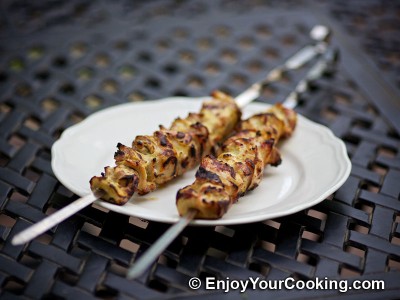 It is BBQ season again. And these curry chicken kebabs are good fit for one of these.
Chicken meat turns out very tender and juicy, especially if you use boneless chicken thighs (but breasts will do too).
If you don't want to bother with grill (even though it is pretty fun), you can roast skewers in the oven over the baking pan.
October 9th, 2010 in Beef, Main Dishes by Julia Volhina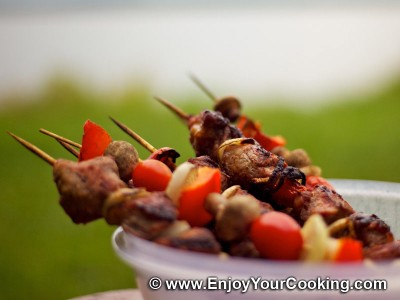 Cookout when we had these veal shish kebabs was rather extreme: we went to the lake (about 50 miles away), fired up grill, skewered meat, set it on the grill and then… rain started.
And it appeared to be not the light summer rain which we hoped for when we first saw clouds, but the cloudburst with thunders, lightnings and a hail in between, the cold one.
I don't know how we managed to keep that meat cooking, but it turned out good, maybe it even tasted better because we were guarding grill for half of hour with towel above it to keep it from getting wet.
By the way, to cook such shish kebab ("shashlik" or "shashlyk" how we call this dish in Russia) you will need skewers of some kind and of course grill (make it a charcoal one to get better taste) in additional to meat, onions, vinegar and spices. If you use wooden skewers, don't forget to soak them in the water at least for 1 hour before skewer meat on.