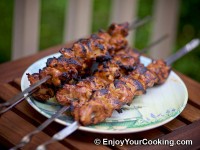 Nice recipe for summer cookout – spicy (and somewhat sweet because of paprika) tender chicken meat skewers. Easy to prepare, yet it is very delicious.
All the heavy lifting for marinating meat is done in advance and then skewers are cooked right before serving. One more positive side of this recipe.
We usually cook these on metal skewers over open hot charcoals. If you plan to use wooden sticks – make sure to soak them in water well in advance to prevent burning.
Alternatively, these can be cooked in the oven, using broil at the end for color is a plus.
Ingredients:
3lb-3.5lb of chicken thigh meat, boneless and skinless
3 cups of kefir
6 tablespoons ketchup or tomato paste
3 tablespoons of lemon juice
6 tablespoons of soy sauce
4 tablespoons of olive oil
6 garlic cloves
3 tablespoons of paprika
1 tablespoon of chili pepper powder
1 tablespoon of salt
How to prepare, step-by-step:
Enjoy!
2 Responses to "Spicy Chicken Skewers"