Simple Cauliflower Puree (Mashed Cauliflower)
August 1st, 2015 in Sides by Julia Volhina

Total cooking time:

30min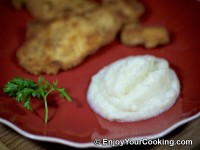 Lately, I am cutting on my potato intake, but it is hard because I like such sides as mashed potatoes, for example. So when I read about mashed cauliflower being something similar but healthier, I had to try it right away.
I must say, mashed cauliflower still tastes like cauliflower, however the texture of it is very much similar to the texture of potato puree. So I think, I am pleased with my results.
I used hand immersion hand blender to puree my cauliflowers, but I am pretty sure stand blender or food processor will work for it as well.
Don't over do on amount of milk – cauliflower will need much less than potato would, so add it very gradually, spoon by spoon until desired consistency.
Ingredients:
2lbs cauliflower head
2tbsp of butter
1/4 cup (more or less to taste) of milk
Salt to taste
How to prepare, step-by-step:
Enjoy!