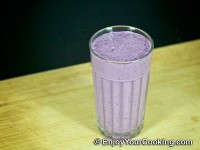 Not complicated recipe for homemade drink to enjoy this hot summer: a milkshake made of fresh (and colorful) blueberries, ice cream and milk, you will also need a stand blender.
Fresh berries are just great for this. But they can be replaced with frozen ones to make it more affordable or when fresh blueberries are out of season.
Listed ingredients will yield about 3 portions. Work in batches to make more in case you have 48oz blender cup like I do.
Ingredients:
1.5 cups of cold milk
1 cup of blueberries
1 cup of white or vanilla ice cream
How to prepare, step-by-step:
Enjoy!