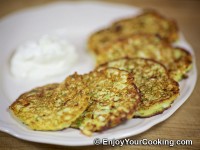 If you have some cabbage sitting in the fridge and you don't know what to do with it, here is your way out: make cabbage pancakes. They are much like Ukrainian "deruny" but made from cabbage and onions.
My better half is not a big fan of cabbage in general, but he loves these and always asks for seconds.
Cabbage pancakes work great for breakfast or lunch as a dish on its own. But they are not sweet, so I suppose can be served as a side dish as well.
Listed amount of ingredients will produce about 15 pancakes.
Ingredients:
1lb of cabbage
1 egg
1 small onion or a half of bigger one
3/4 cups of kefir
Small bunch of fresh dill
1/2 teaspoon of baking powder
5 tablespoons of flour (or less to taste)
Salt to taste
Oil for frying
How to prepare, step-by-step:
Enjoy!
4 Responses to "Cabbage Pancakes"