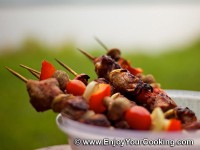 Cookout when we had these veal shish kebabs was rather extreme: we went to the lake (about 50 miles away), fired up grill, skewered meat, set it on the grill and then… rain started.
And it appeared to be not the light summer rain which we hoped for when we first saw clouds, but the cloudburst with thunders, lightnings and a hail in between, the cold one.
I don't know how we managed to keep that meat cooking, but it turned out good, maybe it even tasted better because we were guarding grill for half of hour with towel above it to keep it from getting wet.
By the way, to cook such shish kebab ("shashlik" or "shashlyk" how we call this dish in Russia) you will need skewers of some kind and of course grill (make it a charcoal one to get better taste) in additional to meat, onions, vinegar and spices. If you use wooden skewers, don't forget to soak them in the water at least for 1 hour before skewer meat on.
Ingredients:
3 lb of veal boneless shoulder part
3 onions
Several bay leaves
Cup of wine vinegar
Black peppercorns
Allspice
Ground black pepper
Salt to taste
How to prepare, step-by-step:
Enjoy!
3 Responses to "Veal Shish Kebab with Onions"