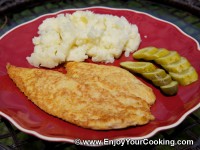 This recipe for chicken tenders (or beaten chicken cutlets) is somewhat similar to pork schnitzels, except for the fact they are made from chicken, of course.
In additional to breading (for which, I must say, ground breadcrumbs work the best), cooking of those require some agility to cut chicken breasts into flat portion pieces: so if you are wondering how to do that – keep reading 🙂
Chicken tenders are perfect for dinner; you can store leftover tenders in the fridge and warm them up for lunch or eat cold and they are great for sandwiches.
Ingredients:
1 lb – 1.5 lb of boneless skinless chicken breasts
2-3 eggs
About cup of ground breadcrumbs (can be replaced by all purpose flour or other breading of your choice)
Salt to taste
Oil of your choice, I used sunflower oil
How to prepare, step-by-step:
Enjoy!
One Response to "Chicken Schnitzels (Chicken Tenders)"