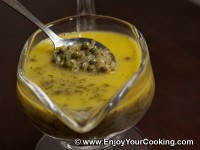 Rich sauce prepared from shallots cooked with white wine, butter and capers and seasoned with fresh chopped dill. It suits for any kind of fish whatever it is boiled, fried or grilled. Goes good with salmon (see Salmon with Capers and Dill Sauce recipe), cod, tilapia and other fish which you would usually serve with butter sauce of some kind.
If you are trying to get more liquid sauce use more wine or add more shallots otherwise. If you don't like texture of cooked onions – increase shallots frying time and cook them with wine longer.
Ready sauce can be stored in the fridge, but it should be served warm, just make sure when you reheat it to remove sauce from burner before it starts boiling.
Ingredients:
3 cups of dry white wine
1 stick of unsalted butter (about 4 oz)
2-3 tbs of capers
3-4 medium size shallots
Fresh dill
Olive oil
Ground black pepper
Salt to taste
How to make, step-by-step:
Enjoy!
Tips & Advises
Store cooked sauce in fridge. When warming up, make sure sauce isn't boiling so it doesn't lose its taste
3 Responses to "Wine, Butter and Capers Sauce for Fish"