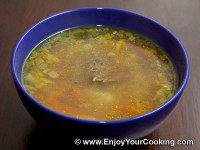 This is good soup to cook at winter: time when fresh herbs are not full of flavor and most of vegetables are not as full of nutrients as fresh ones.
Root vegetables used in this recipe (potatoes, carrots, parsley and celery roots) are good on keeping their nutrient through whole winter and buckwheat grains add even more.
As for most of meat broth based soups, you can save some time cooking it by preparing meat broth in advance: night before or so, and then reheat before cooking buckwheat soup itself.
I really encourage you to cook beef broth yourself, whatever they say in those advertisements, but broth from can can't be the same good as broth prepared by yourself from ingredients you choose, it is not that hard after all.
Ingredients:
1lb beef bone-in meat for meat broth (beef shank or ribs or so)
½ cup of buckwheat
1 potato
1 medium carrot
1 small onion
1 parsley root or parsnip
A piece of celery root
1 tbsp of sunflower oil
Salt to taste
How to prepare, step-by-step:
Enjoy!